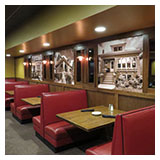 PLEASE NOTE - WE WILL BE OPEN FOR DINE-IN AND CARRYOUT FROM NOON UNTIL KICKOFF on Sunday February 2nd for Super Bowl. - ENJOY THE GAME!
Various restaurants have various reservation policies for various reasons. We thank you for understanding ours.

Gale Street Inn takes a limited number of reservations each and every night. We do not overbook our restaurant. We seat 98% of our reservations on time, every time. If our restaurant is busy at any time and on any night, we may ask that your party be complete before we seat you. This ensures a positive outcome for not only us, but for all of our guests, including those without reservations.
---
During the week, Wednesday and Thursday, we take reservations for parties of any size. This may not apply on holidays or theme nights.
Due to the popularity of our restaurant on weekends, we take reservations for parties of six or more, again on a limited basis.
Please contact us at 773-725-1300 and we will do our best to accommodate you.

We are closed for the following holidays:

Christmas Day, Easter Sunday, Memorial Day, Independence Day, Labor Day & Thanksgiving.
KITCHEN HOURS
Wednesday 4:00pm - 10:00pm
Thursday 4:00pm - 10:00pm
Friday 11:30am - 10:00pm
Saturday Noon - 10:00pm
Sunday Noon - 9:00pm
Monday  4:00pm - 10:00pm
Tuesday CLOSED
BAR HOURS
Last call in bar one hour
after kitchen closes.

CLICK HERE FOR DIRECTIONS
Contact Info
info@galestreet.com
773.725.1300

---
© 2016 Gale Street Inn. All Rights Reserved.