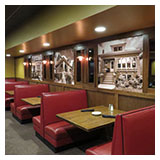 As you can probably tell, our restaurant has gotten smaller in more ways than one. The segment that continues to grow around our business is you, our loyal legion. In an effort to meet, and possibly exceed, your expectations, we've made the decision to do fewer things, and to do them better.

Current conditions for small businesses have navigated us to a smaller footprint. This old-school restaurant has always succeeded with change and will continue to do so. We trust that you will continue to endure with us.
---
We take a limited number of reservations for groups between 6 and 14.
These reservations are usually available at the beginning and end of our prime dinner hours.
We consider ourselves to be a first come first served restaurant.
Please contact us at 773-725-1300 and we will do our best to accommodate you.

We are closed for the following holidays:

Christmas Day, Easter Sunday, Memorial Day, Independence Day, Labor Day & Thanksgiving.
KITCHEN HOURS
Wednesday 4:30pm - 10:00pm
Thursday 4:30pm - 10:00pm
Friday 4:30pm - 10:00pm
Saturday 4:00pm - 10:00pm
Sunday 3:00pm - 9:00pm
Monday  4:30pm - 10:00pm
Tuesday CLOSED
BAR HOURS
Last call in bar one hour
after kitchen closes.

CLICK HERE FOR DIRECTIONS
Contact Info
info@galestreet.com
773.725.1300
E-mail List
Sign up for E-mail List
---
© 2016 Gale Street Inn. All Rights Reserved.